Who is SCCA?
---
The Sports Car Club of America is a worldwide organization with over 55,000 automotive and road racing enthusiasts. SCCA provides infrastructure, rules, insurance, workers, and competitors for amateur and some professional road racing series since 1944.
---
Who is Cal Club?
---
Cal Club Autocross is part of the California Sports Car Club which is the Los Angeles region of the SCCA. CSCC provides infrastructure, workers, and competitors for amateur and some professional road racing series. CSCC, through Cal Club Properties, owns and operates Buttonwillow Raceway Park.
---
Who is Cal Club Autocross?
---
Cal Club Autocross is the Solo/Autocross events organization for California Sports Car Club. Cal Club Autocross is a volunteer, non-profit organization that puts on Solo events in the Los Angeles area. It has been in existence since 1985 and is an out-growth of the Southern California Council of Sports Car Clubs (SCCSCC), an autocross organization that had been putting on events around LA since 1952. It is made up volunteers that provide the manpower and organizational structure to schedule and organize our series of Solo events around LA.
---
What is Solo/Autocross?
---
Solo, or autocross, is a low speed, timed, handling event. It is set up as a small road course lined with orange traffic cones on a large parking lot or aircraft taxi way. Courses in Southern California are between half to a mile long. Cars enter the course one at a time and are spaced out to minimize risks to competitors and event workers. The emphasis is on handling and car control and the courses are laid out so that the top speed is limited to what would be encountered during normal driving. ​ The primary goal of autocross is to have fun and improve your driving skills. It may sound pretty sedate, but you will find that driving thru a technically challenging course as fast as you can is a lot of fun and will get the adrenaline flowing.​​ ​​ Watch the below video which highlights the 2018 Autocross National Championships!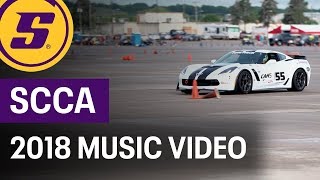 ---
How are Events Organized?
---
Typically, there are 10 to 14 Saturday test n tunes/practices and Sunday competition championship events per year in the LA area. Normally, a Saturday practice is followed by a Sunday event (about one weekend per month). These are open to anyone with a valid driver's license or learners permit with parent approval. We also have classes for junior karts for children as young as 5 years old, with parent approval. Competition events draw from 100 to 200 entrants. Practice events and schools are also conducted each year. These have varying entry requirements and are limited to smaller numbers of participants. View our event calendar here. Read our event FAQs here. SPECIAL NOTE: Every participant, driver, or passenger MUST be an SCCA member. However, you can purchase a discount weekend membership here (currently $15) if you just want to drive in one of our events. If you want to enter several events each year, it may be cheaper to purchase a regular yearly SCCA membership. A passenger that will not drive at the event must sign up at registration and receive a special wristband.
---
Executive Board and Directors
---
The Executive Board (E-Board) for Cal Club Autocross is made up of the Chairman, Assistant Chair, Treasurer, Secretary, and any active Committee Chairs. All E-Board members must be SCCA members. They have no voting power, but can set certain policies and guide the Cal Club Autocross organization. They carry out the directions given by the Directors. Directors have voting power on all items regarding operation of Cal Club Autocross. Directors guide the E-Board and vote on supplemental rules changes, local event disputes, and proposed new rules and revisions.
---
Supplemental Regulations
---
The supplemental regulations (Sup Regs) are local rules and classes that add to the SCCA national rules for the administration of Cal Club Autocross events.
---
SCCA National Rules
---
The SCCA national rules can be viewed online. Go to scca.com for more information.
---
---